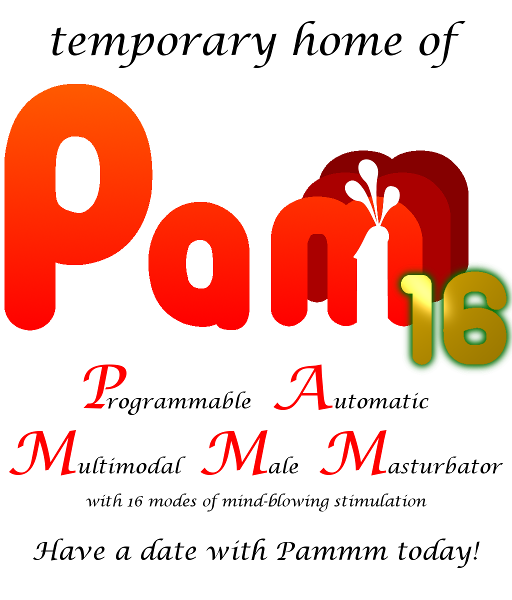 Pammm-16 is the culmination of more than 30 years' fantasizing about the ultimate mind-blowing masturbator, and inspired by thoughts of the futuristic sexbot that can do things to a man no biological woman can. Many of the ideas that go into Pammm were conceived before the technology existed to build it into a real device. But now is the time.
Features
16 Independent modes of stimulation that can be used in any of 65,536 combinations — two independent strokers capable of continuous rotation, variable pressure fingers/lip simulator, multiple vibrators, pulsation system, electro-stim.
Variations in intensity, rate, and pressure give millions of possibilities.
Penis and prostate stimulation — REAL prostate massage, not than just another vibrator, though we include that too.
Enjoy combinations of effects physically impossible with natural body parts or lesser masturbators.
Built-in heater simulates human body temperature.
Suction gives blow-job effect and helps maintain erection.
Adjustable cock-ring can be loosened or tightened at orgasm.
32 pre-programmed sexual techniques.
64 pre-programmed scripts.
Multiple levels and gradual escalation to increase stimulation as your arousal climbs.
Single-handed controller gives you complete mastery over stimulation.
Built-in edging system with fine tuning to keep you at the very threshold.
Cum-NOW! trigger to blast you with a pre-selected orgasm program when you just can't take it anymore. Can you imagine all 16 modes of stimulation turned up to their maximums — simultaneously? Or, if you prefer, cum easy.
Emergency brake button — you don't want to cum too soon! Resume from where you stopped or start over. Programmable mandatory cool-down timer helps you resist the temptation to start again too soon. Even turning it off won't reset the timer. The Cum-NOW! trigger will still work during the first two seconds of cool-down to prevent spoiled orgasms in case you wait a moment too long to hit the brakes.
Three interchangeable stroker sleeves for variety: ribbed silicone for a lubed experience, cozy fleece, and silk.
Internal jizz collector to make clean-up easier.
Male/female sex sounds. Add your own!
Node-based editor for setting up your own techniques and programs. Windows, OS-X, Linux/BSD.
Transparent housing lets you watch what Pammm is doing to your cock. Multi-colored lights indicate what mechanisms are in operation — as if you couldn't tell!
State-of-the-art robotics technology.
Made with quality, robust materials: polyoxymethylene, polyamide, medical-grade silicone, stainless steel.
Production units will be RoHS compliant
What's it like? Imagine a fuck, three different types of hand job, a blow job, prostate massage, rimjob, vibrator sex and electro-sex all at the same time!
Options and Add-ons
Bracket to hold penis and anal/prostate stimulators securely in place.
We are looking into options for an "inspirational media" viewer that connects slide-shows and videos to the action below the waist, switching with intensity level and cum-NOW! and edging mode. This will likely take the form of some kind of virtually reality glasses.
How long will it take?
Much of the conceptual design is finished. The multimodal frenulum stimulator alone went through a dozen or more concepts before it settled out into its latest incarnation, one that contains 180 individual components. There are still some parts of the conceptual stage to work out, and the details of the physical design and computer programming. Some parts, such as the prostate stimulator, may require several iterations to get it right, so the world will not see one for a year or two.
Because of the high level of technology involved and the necessity for highly specialized components, the fabrication of the first prototype will require either expensive fabrication services or the purchase of new equipment that can be costly. Furthermore, construction costs will not be trivial because of the use of modern robotics technology. To this end, we are starting an Indiegogo campaign to raise initial development costs.